Featured Activities
Pipestem Aerial Adventures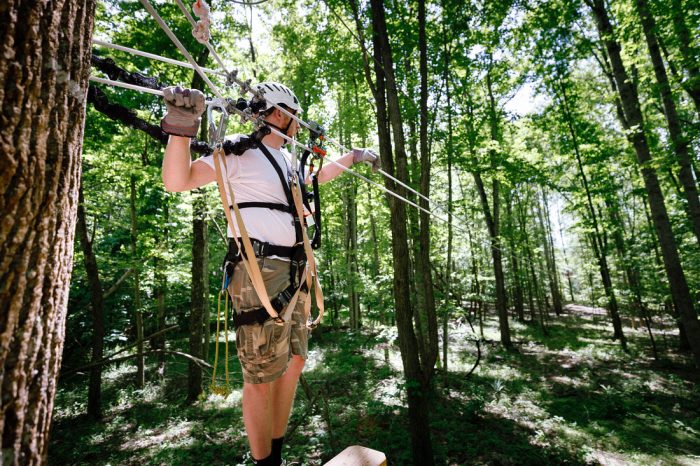 Take to the skies and get a little closer to Almost Heaven on your aerial tour through one of West Virginia's most popular state parks.
Splash Park & Adventure Lake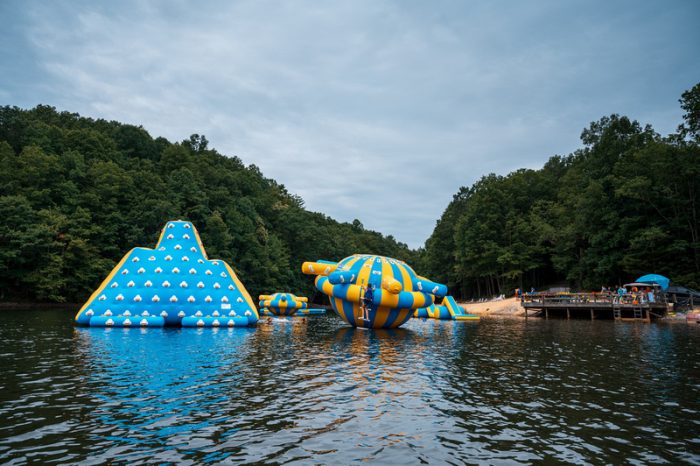 Fun in the sun awaits at Pipestem's Splash Park and Adventure Lake.
Pipestem Adventure Zone
Spend a fun-filled day enjoying activities for the whole family with the new Pipestem Adventure Zone at Pipestem Resort State Park.
About This Park
Pipestem Resort State Park is West Virginia's premier family adventure resort. Sitting on the east rim of the Bluestone River Gorge, Pipestem offers something for everyone including exhilarating zipline tours, guided trout fishing trips, mountain bike excursions and more. Spend some time on the water at the park's new adventure lake and splash park or set out on a kayaking and stand-up paddle board tour, tubing or whitewater adventure on the Bluestone River.

The sprawling 4,050-acre park is located on the border of Summers and Mercer counties and features 26 cabins and two lodges, one of which can only be accessed by riding the park's aerial tramway to the bottom of the Bluestone River Gorge. Just 20 minutes down the road you'll find even more to do at Bluestone State Park on the banks of Bluestone Lake.

The aerial tram is open in 2023 Friday from 8 a.m. to 10 p.m., Saturday from 7 a.m. to 10 p.m., Sunday from 7 a.m. to 6 p.m., Monday 8 a.m. to 6 p.m. The tram is closed Tuesday through Thursday. Hours are subject to change. Shop the Outfitters Gift Shops on the same days of Aerial Tram hours.


History
Pipestem Resort State Park gets its name from the native pipestem or meadowsweet plant. Native Americans and early pioneers used the hollowed-out twigs as shafts for tobacco pipes. For generations, the descendants of Scotch, Irish and English farmers farmed the relatively flat plateau on the east side of the Bluestone River Gorge. The land was rich in beauty but poor in jobs. In the 1960s, West Virginia received financial assistance to buy property to create a park that would attract visitors who could help grow the local economy. The park was built with grants provided by the Area Redevelopment Administration of the U.S. Department of Commerce under the administration of President John F. Kennedy. The park officially opened on Memorial Day 1970.
Dining
The Bluestone Dining Room at McKeever Lodge is a full-service restaurant offering breathtaking views of the Bluestone Gorge. Open daily from 7 a.m. to 9 p.m.
Mountain Creek Dining Room at the Mountain Creek Lodge is known for its unique menu and high-quality presentation. This relaxing riverside location, accessible only by the park's popular aerial tramway. Mountain Creek Lodge is open for overnight reservations on Friday and Saturday nights only beginning May 26 through October 28 in 2023. The Mountain Creek Dining Room will not be open in 2023.
Black Bear Grill and Lounge at McKeever Lodge is a quick-service dining option for families on the go, or for anyone looking for a place to kick back and relax after a long day of adventure. At Black Bear, you'll find specialty pizzas, as well as a wide selection of craft and local draft beer. View the Black Bear Grill and Lounge Menu. Open Thursday and Friday 4 to 11 p.m. Saturday from 11 a.m. to 11 p.m. Sunday 12 p.m. to 8 p.m.
Tramway Sweets & Treats at the Canyon Rim Center is a 1950s themed soda shop and ice cream parlor with sundaes, shakes and other desserts that will satisfy your sweet tooth. Tramway Sweets & Treats overlooks the stunning Bluestone Gorge and tramway down to Mountain Creek Lodge. Open Saturday 11 a.m. to 7 p.m. and Sunday 11 a.m. – 6 p.m.
Shopping
Everything you need for the perfect vacation is right here, plus a little extra.
Pro Shop – Features logoed golf apparel and unique golf merchandise. Open daily from 7:00 a.m to 7:30 p.m.
Expressions of McKeever Lodge – Features logo apparel, art glass, West Virginia roasted coffee and specialty gifts. Open daily 24/7.
Campground Store – Features staple products, supplies and groceries to make your stay more convenient and enjoyable.
Reflections at Canyon Rim – Offers a wide selection of souvenirs, West Virginia glassware, gifts and souvenirs. Please note: The Reflections at Canyon Rim gift shop will temporarily move to the Blue & Gold Room in the 18-hole championship pro shop complex located near McKeever Lodge. Open Wednesday through Sunday 9 a.m. to 5 p.m. 
Mountain Artisan Center – Features West Virginia hand-crafted merchandise.
Recreation Center Specialty Shop – Features logoed apparel, recreation equipment, disc golf and archery supplies.
Mountain Creek Outfitters – Offers outdoor adventure apparel and gear. Open same hours as the aerial tramway. 
Spa
Treat yourself to massages, facials, waxing and nail services at Pipestem Resort's Mountain Serenity Spa.
For a full list of services, click here.
Make your reservation today by calling 304-466-1800 ext. 735. Appointments are recommended; walk-ins based on availability.
Trails
Download Park Trail Map
Lake Shore Trail
A relatively level shoreline and woodland trail completely encircling Long Branch Lake. May be reached via Law Hollow Trail, Den Tree, Long Branch, Cottage, Turkey Spur, South Side or Lake View Trails.
Distance: 2.2 miles
Bluestone Turnpike Trail
This moderately difficult trail begins at the junction of the Farley Loop and River Trail in Pipestem Resort State Park. From this intersection it is 8.5 miles to Bluestone State Park. The trail is best accessed near the aerial tram at the Mountain Creek Lodge. From the Mountain Creek Lodge, follow the moderately difficult River Trail downstream for one mile to access the beginning of the Bluestone Turnpike Trail. Access also is possible by hiking the entire length of the River Trail in its entirety.
Distance:  8.5 miles
Difficulty:  Easy
Canyon Rim Trail
Beginning near the employee parking area at Canyon Rim Center, this steep trail descends 500 feet to Heritage Point, a massive sandstone outcropping. The overlook offers an excellent view of the Bluestone River Gorge and Mountain Creek Lodge.
Distance: 0.7 miles
Difficulty:  Moderate
Cottage Trail
This easy trail begins at the park road behind Cottage Number 1 and travels down to Long Branch Lake where it joins the Lake Shore Trail.
Distance: 0.7 miles
County Line Trail
This steep, somewhat rugged trail begins at the Nature Center parking lot, comes through the edge of the yard and then travels a short distance toward the stables. It then descends into the woods, crosses two knobs, passes Indian Branch Falls (1.2 miles) and ends at the River Trail.
Distance: 1.9 miles
Dogwood Trail
This is a relatively easy walking trail that begins beside the pond at the Nature Center, passes through an oak-hickory forest along the park road, and loops back to the Nature Center.
Distance: 0.6 miles
Farley Loop Trail
The most rugged trail in the park, Farley Loop Trail begins behind the Mountain Creek Lodge. After a quarter mile of steep switchbacks, a short spur takes you to Raven Rock overlook and a tremendous view of the gorge. Another half mile of steep, rocky switchbacks takes you through a pine thicket to the patrol cabin. Above the cabin, the trail turns sharply to the right and passes two cemeteries before descending one mile to the Bluestone River. To return to Mountain Creek Lodge, turn right (upstream) and follow the River Trail.
Distance: 3 miles
Lake View Trail
Beginning along the park road between the Recreation Center and the Nature Center, this trail follows an old roadbed through mostly open habitat to its junction with the Lake Shore Trail near Long Branch Lake.
Distance:  0.4 miles
Law Hollow Trail
The trail begins at True Road and follows an old logging road down to the Lake Shore Trail just below the spillway for the dam.
Distance: 0.5 miles
Lick Hollow Trail
This trail begins at the Mountain Creek Lodge parking area at Canyon Rim Center. It descends into Lick Hollow and then routes back up to the rim of the hollow where there is a beautiful view of the Bluestone Canyon. The trail then loops around and returns to the parking area.
Distance: 1.6 miles
Long Branch Trail
Starting from the park road across from the McKeever Lodge and beside the arboretum, this short, steep paved trail offers easy access to Long Branch Lake. The trail also serves as a service road (authorized vehicles only).
Distance:  0.3 miles
North Side Trail
This .5 mile loop trail begins at the Park Headquarters parking area, passes down into the woods and returns to the large field behind the building.
Distance: 0.3 miles
Turkey Spur Trail
This trail begins along the park road between Park Headquarters and Cottage Number 1, with a 0.3-mile unnamed trail to Turkey Spur. The trail connects Cottage and Lake Shore trails and in 0.4 mile joins with Lake Shore Trail.
Distance: 1 mile
River Trail
This trail begins behind McKeever Lodge. After about a 0.25 mile of steep descent, the trail becomes relatively level. One and a half miles from the lodge, it crosses the Canyon Rim Trail. After passing under the Aerial Tramway, the trail meets the County Line Trail about 2.25 miles from McKeever Lodge. The trail goes through a series of switchbacks for 1.25 miles to the Bluestone River. After wading the river, it is an easy 0.75 mile walk to Mountain Creek Lodge. The trail then continues downstream for another mile where it ends at the junction of the Farley Loop Trail and the Bluestone Turnpike Trail.
Distance:  5.25 miles
Difficulty:  Moderate to Difficult
South Side Trail
This trail begins along park road 0.1 mile down the hill from Park Headquarters. It travels through mixed forest 0.6 mile to its junction with the Lake Shore Trail. Look for split rail fences, rock piles and other signs of early settlers.
Distance: 0.6 miles
Nearby Attractions
National Coal Heritage Trail Interpretative Center
The National Coal Heritage Trail's Interpretative Center is housed in a charming, reconstructed train depot at 100 Station Square in Bramwell. The center displays relics from West Virginia's coal history, making for a fascinating and historic excursion.
Hinton Railroad Museum
Learn more about West Virginia's rich rail history at the Hinton Railroad Museum.  Browse through artifacts from the Chesapeake and Ohio Railway from 1873 to the present day. The museum is open June through August in downtown Hinton.
Veterans Memorial Museum
Salute our veterans at the Veterans Memorial Museum in Hinton. The museum features memorabilia dating back to the Revolutionary War to present day, all donated by citizens of Summers County.
"Those Who Served War Museum"
Delve into more historic artifacts, ranging from the Revolutionary War to present day, with special emphasis on World War II.
Chuck Mathena Center
With a nearly 1000-seat theater, state-of-the art audio and visual capability and stunning architecture, the Chuck Mathena Center is one-of-a-kind experience in southern West Virginia.  Located in Princeton, the stage plays host to year-long national touring productions, theatre and musicals, concerts, dance and more.
Bluestone State Park
Untamed and majestic, this tranquil lakeside park near Hinton makes an ideal retreat. Modern cabins are available for rent (14 year-round, 12 seasonal) as are 4 campgrounds.
Camp Creek State Park and Forest
Remarkable waterfalls and lush, thick forests make this park a Mercer County highlight. Simple campgrounds for campers (including one for horses) are available for rent. Camp Creek also has a remote pack-in-pack-out site for backpackers– a real treat for anybody who wants to rough it! 
New River Gorge National Park and Preserve
This park encompasses more than 70,000 acres of land along the New River — one of the oldest rivers in North America. The rugged mountains were once home to several coal mining camps, and some historical artifacts and buildings remain. Recreational opportunities include whitewater rafting, fishing, hiking and rock climbing.