Blink and you'll miss it: Why you need to plan your state park fall trip now
Book your lodge room or cabin when there's peak color
There's just something special about fall. The forested hills turning brilliant hues of red, orange and gold. The cool, crisp temperature that's just right for a hike. The sound of leaves crunching under your feet as you stroll through the woods. No doubt, autumn is beautiful, but its beauty is fleeting—occurring over a span of just a few weeks. Don't miss that window of opportunity to view the Mountain State in all its majestic autumn splendor. Make your plans today to visit West Virginia State Parks this fall!
Tips for making the most out of your leaf-peeping trip:
Book your lodging early before everything fills up.

You can find great deals on cabins and lodge rooms at West Virginia State Parks, and many campgrounds remain open until late October. We eve have some pet-friendly lodging available too – so you can bring your furry best friend along!

Looking for the perfect Instagram shot? Get up before dawn.

The brilliant reds, yellows and oranges of fall are especially beautiful cloaked in wispy layers of fog or dappled with morning dew. Aside from the obvious hot spots like scenic overlooks and waterfalls, there may be some other lesser-known places to view the best color, so don't hesitate to ask park staff for their recommendations. And be sure to share your photos using #WVStateParks and #AlmostHeaven.

Look for festivals and activities

This time of year there are plenty of festivals and seasonal activities you can enjoy once you've finished sightseeing and capturing your favorite images. But finding the right time to visit is key. Depending on the region, color peaks in West Virginia from late September to late October. Here's a handy guide to when you can find the best color at West Virginia State Parks:
Late September
Aside from its majestic main waterfall, Blackwater Falls State Park has beauty to spare. The Blackwater River Canyon is especially beautiful drenched in the warm hues of fall.
Experience autumn's beauty from the rails at Cass Scenic Railroad State Park, where an antique steam engine hauls passengers up the mountain to the overlook at Bald Knob.
Rippling streams, a peaceful lake, and remote mountain beauty form the highlights of Watoga State Park deep in the heart of the Monongahela National Forest.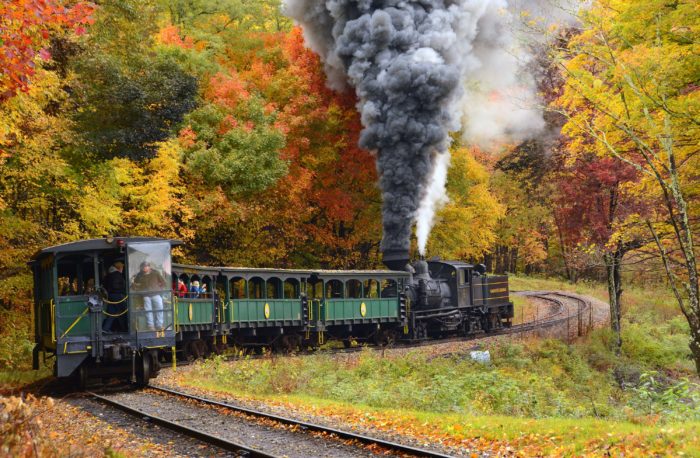 Early October
Fall colors typically some early to West Virginia's "top park"— Tomlinson Run State Park, at the tip of the Northern Panhandle.
With its rippling mountain streams and heavily wooded forest, Holly River State Park is awash in scenic beauty year-round, and especially during fall.
View autumn's colors in West Virginia's highest forest. Kumbrabow State Forest on top of Rich Mountain sits at an elevation of 3,000 feet above sea level.
Mid October
Just minutes from downtown Morgantown, Coopers Rock State Forest boasts stunning views of the heavily forested Cheat River Canyon far below.
Experience autumn's beauty along the Tygart Valley River at Valley Falls State Park, a great spot for a picnic or hike.
North Bend State Park offers a quiet getaway in a peaceful wooded setting. The park is adjacent to the 72-mile North Bend Rail Trail, a popular destination for bicyclists and horseback riders.
Late October
In the New River Gorge, Babcock State Park is home to the famous Glade Creek Grist Mill, one of the most photographed images in the state and a can't-miss destination for leaf peepers.
Experience the spectacular autumn scenery of the Bluestone Gorge at Pipestem Resort State Park, where you can view the colors from an aerial tram or try out the new Pipestem Peaks Zipline.
The Cacapon Mountain overlook at Cacapon Resort State Park presents the unique opportunity to view color in West Virginia, Virginia, Maryland and Pennsylvania—all at once!
For more information about fall festivals and events in West Virginia and to view a fall color map, wvtourism.com/fall.
Don't delay. Make plans today to visit West Virginia State Parks during peak foliage times, and don't forget to bring your camera!
Book Now