Where old world charm and natural beauty abound
Take a journey back in time and unwind in the quaint, historic town of Cass. Trips to Cass Scenic Railroad State Park are filled with rich history, unparalleled views and the sights and sounds of an original lumbering town. The park's 11-mile long heritage railroad and authentic company town are some of the state's most popular tourist attractions. This idyllic town comes alive in the fall months as the glowing autumn leaves put on a spectacular show for visitors. Climb to the top of Bald Knob on the steam powered locomotive and get a birds-eye-view of the beauty of Almost Heaven. There's so much to see at Cass, we recommend staying a few days! This three-day itinerary will make planning your Cass Scenic Railroad trip a breeze.
Day 1
Check into your very own Company House! The Cass Company houses have the historic charm of a forgotten era with all the comforts of the modern day. Houses accommodate anywhere from 2 to 14 people, so bring the whole family along for your three-day trip.
Once checked in, it is time to start exploring! Cass has shopping at the Company Store and the shops at Leatherbark Ford, featuring handcrafted items and artistry including paintings, needlework, quilts, blacksmithing, baskets, soaps. You can also learn about trains at the Cass Historical Museum, open Tuesday through Sunday, 9:30 a.m. to 5:30 p.m. Exhibits are free. While you're there, take a guided tour of the locomotive shop. See how engineers repair and maintain the historic Shay locomotives! After you are done exploring, rest your feet at the Cass Historic Theater and watch a documentary about the history of Cass and Cass Scenic Railroad. Showtimes are 10 a.m., 11 a.m., 1 p.m. and 5 p.m. Tuesday through Sunday.
Day 2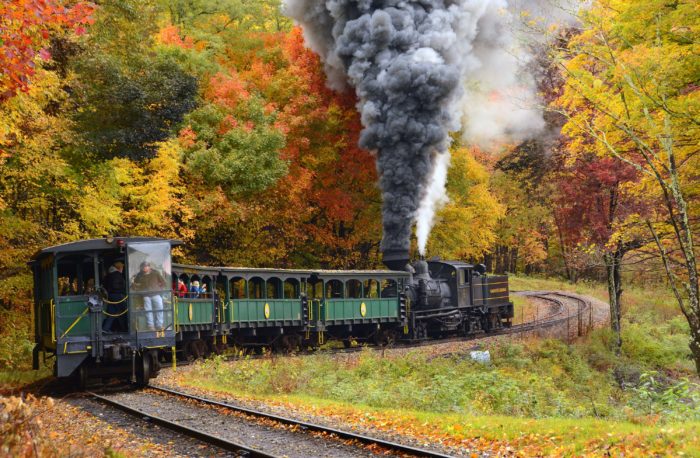 On your second day of your trip, step aboard a steam-powered train. Cass is the home to the world's largest fleet of geared Shay locomotives. Five Shays, one Climax, and one Heisler locomotives reside here. The legendary turn-of-the-century class C-80 Shay, #5 has been toiling up Cheat Mountain for nearly 100 years, making it one of the oldest engines in continuous service on its original line, and the second oldest Shay in existence.
The journey will take you up Bald Knob. At an elevation of 4,842 feet, Bald Knob is the third highest point in West Virginia. Located 11 miles up the mountain from Cass, the Bald Knob overlook offers spectacular views into two states and into the valley below, home to the National Radio Astronomy Observatory. The train also makes a stop at Whittaker Station for a 30-minute layover. A "King of the Road" hobo lunch will be provided to enjoy with your ride as well.
Book your train tickets here.
Pro tip: Prepare to get a little dusty on this train ride from the coal smoke that billows from the steam engine. Don't hang your head out the window and bring some sunglasses to prevent coal cinders from getting in your eyes. If you do, don't worry! The experienced staff on hand can provide eye wash and will let you know what parts of the ride to be extra careful on.
After your excursion up the mountain, fill up at the Last Run Restaurant. This dining hot spot was featured in the "101 Unique Places to Dine" (in West Virginia) in 2009 and 2015.
Day 3
Unfortunately, it is time for you to check out of your awesome Company House; however, more adventures await on the last day of your journey. Cass has so many great attractions within a short drive. Take in the natural beauty of the surrounding area by hiking or biking a portion of the nearby Greenbrier River Trail. The trail head is easily accessed at the end of Main Street at Cass Scenic Railroad State Park. Or explore the Allegheny Trail, which Cass happens to be right in the middle of!
Just a short drive away, you and your family can visit Greenbank Observatory. Go from the past and into the stars! The Green Bank Science Center features hands-on exhibits and displays that introduce you to the science of radio astronomy while you play! Discover what radio waves are, how the Green Bank Telescope works, and what radio astronomers have learned about the universe. And, as an added bonus, if you stay at a Cass Company House you automatically recieve 2 free passes to the Observatory!
In addition, Snowshoe ,West Virginia's premier ski resort is a hop, skip and a jump away. While the slopes may not be snow-covered in the early fall months, there is still plenty of fun to be had. Indulge yourself in the spa, go shopping, or dine at one of their delicious restaurants then plan on staying at a Company House during the winter months when you hit the slopes!
With so many fun and exciting things to do in and around Cass, you are sure to have a schedule packed with adventure. Here are your next steps!
Plan a trip

Follow our itinerary or create your own! Cass has something for every age group to enjoy.

Book your stay

In this case, book your Company House and your train ride. No trip to Cass is complete without enjoying both of these attractions.

Make memories that last a lifetime

Visit during the Fall months to get the best Cass Scenic Railroad experience and give the family something they'll always remember.
Book Now